Countertops
At Carpet One Floor & Home, we are your local home design center. When it comes to home design, we have a variety of products and services to assist with your home remodel. As part of our product selection, we carry countertops for your kitchen or bathroom. We are proud to offer a variety of options to suit your home design.
Kitchen and Bathroom Countertops
Kitchen and bathrooms countertops are exposed to all kinds of wear and tear. Whether it's moisture from your bathroom, spills from the kitchen, or food falling off of a cutting board, countertops experience it all. When you think about what kind of countertop you want, be sure to consider the possibility of mishaps and what you will have to do to keep it clean.
We recommend countertops that are durable and stylish. As part of your home design, countertops will be something you have to look at every day. You will want a countertop in your home that enhances the look of all the other features in your kitchen or bathroom, while still getting the durability of a hard surface that is easy to maintain.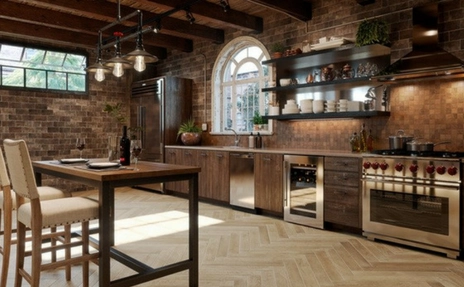 Quartz
As one of the leading materials, quartz continues to be an excellent choice for kitchen or bathroom countertops. Its beautiful looks on the surface balance elegance with practicality.
Granite
Granite countertops are known for their resistance to heat and stains. With kitchens and bathrooms being so susceptible to these mishaps, it's clear why homeowners choose granite time and time again.
Laminate
If you're looking for a countertop that is attractive but doesn't break the bank, laminate is the way to go. Laminate can look like tile or stone, giving you the look you want without the hefty price tag.