Karastan
Here at Carpet One Floor & Home, we offer exclusive products that you will not find anywhere else. One of the premier flooring options we offer is the Karastan line. Karastan products are a combination of style and functionality that is unmatched. Below are just a few of the benefits of Karastan products we offer, including an extensive look at the Karastan SmartStrand line.
Durable
Regardless of where you are looking to place your Karastan carpet, it is built to last. These carpets combine beautiful design with unmatched durability. Only premium fibers are used to ensure top-notch quality. Karastan carpets are engineered to be resistant to soiling and staining. Maintenance for your new carpet is much easier as a result.
Functional
Karastan carpets are designed with high-quality materials that are both practical and functional. These carpets will withstand the test of time. The room you choose will be transformed into an engaging space.
Pet Protection
With such a gorgeous product, you may assume that you would assume that you may need to give up on durability properties. That is not the case. With Karastan's SmartStrand Forever Clean carpet you are getting an incredibly durable option that is also extremely stylish. Care and maintenance have never been easier with a carpet either!
From cats and dogs to exotic birds and reptiles, the SmartStrand carpet uses state of the art technology to assist with making your carpet a breeze to take care of. SmartStrand has a 0% absorption rate that prevents musty odors from lingering. The fibers that make up the carpet are also renewable and sustainable; which means you can have the peace of mind knowing that you are purchasing an environmentally friendly carpet.
For more information on Karastan Carpets and how they can function within your lifestyle, visit us at Carpet One Floor & Home today in Cheyenne, WY!
National Karastan Month
Celebrate national Karastan month and receive huge rebates!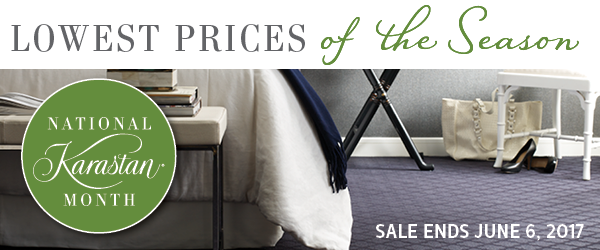 Why Karastan
Going back to the 1920's, Marshall Field & Co. developed an innovative and exciting new product. Machine made oriental rugs quickly gained popularity, and in 1928 the first Karastan rug came off the loom.
At the 1933 and 1934 World's Fair in Chicago, Karastan didn't just put the rug on display for the world to see, they let the world walk on it! Since then, the Kirman pattern rug still exists with one-half filthy and the other restored to its former beauty to display the durability of Karastan rugs.
Taking flooring and soft surface in a bold new direction, Karastan introduced American's to the concept of walking in comfort. With innovative ideas that formed the industry standard, their products stand the test of time to make your home, beautiful. Synonymous with elegant machine-made rugs, Karastan stands out from the rest. The Kara-Loc method made possible the production of quality carpets at affordable prices for any consumer.
Don't miss out on great savings this month! Visit us in store at Carpet One Floor & Home in Cheyenne, Laramie, and Casper WY to explore our different Karastan products!
*Rebate good up to $1,000 back