Waterproof Flooring Options
We know that a home with families who have active lifestyles as well as children and pets need a floor that is easy to care for. We have the best solution for you and choosing the right floor for your lifestyle can help you maintain your busy schedule and your floors. It is time to consider waterproof flooring for your home. Carpet One Floor & Home Commercial Flooring here in Cheyenne, Laramie, and Casper, WY has a wide selection of waterproof products such as luxury vinyl, tile and even carpet for you to choose from. Ask us any question and we will be able to help you find the perfect floor for your family and your home. Below are a few different waterproof flooring options to consider for your home.
Luxury Vinyl Flooring
Not all luxury vinyl is waterproof, but the floors that are can be a time saver in your home. Luxury vinyl is a popular flooring option not just because it comes with waterproof qualities, but also because it is made to look like real tile or wood flooring. Luxury vinyl features the ultimate durability, and cleaning up is a breeze. No longer worry about sacrificing good looking floors for ones that are functional.
Featured brands: Invincible H2O, Karndean Korlok, Mannington Adura Max
Tile Flooring
Tile is the premier flooring option for kitchens and bathrooms alike. It features water and heat resistant qualities. One of the best features of tile though is how easy and simple it is to clean. Spills and messes are no match against tile, and clean up fast. Tile also features slip resistance, so wet floors are not a major concern for you.
Featured brands: Bel Terra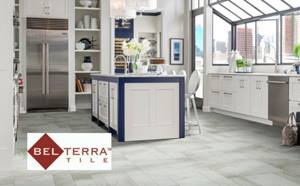 Waterproof Carpet
Check out our Carpet One Floor & Home exclusive brand Tigressá H2O and see for yourself just haw waterproof this carpet is. Waterproof carpet is perfect for families who have children and pets in their home, and can be installed in playrooms, basements, as well as bedrooms.